Listing sites for looking, owner sites for booking!
Save Money – Book Direct with Vacation Rental Owners.
---
There has been an ongoing push towards ever increasing fees levied by companies that list vacation rental properties such as HomeAway, FlipKey/TripAdvsor, AirBnB and Vacation Rentals by Owner (VRBO) and it would seem things are getting worse rather than better.
In the past owners of vacation properties paid (often handsomely) to be listed on most of these sites and visitors would be able to browse the web site, get in touch with the owner and book direct at an agreed price. Move forward to now and this is often no longer the case. Increasingly, listing sites have started to charge a percentage of the booking, often calling it a "Service Fee". This means that when you book a vacation property via one of these sites, you will end up paying more, often substantially more, than you would if you had booked direct with the owner. Have a look at the information box to find out how much some listing sites will charge you. There are many other sites that also charge you a fee for booking, but we have looked at some of the main players in the industry.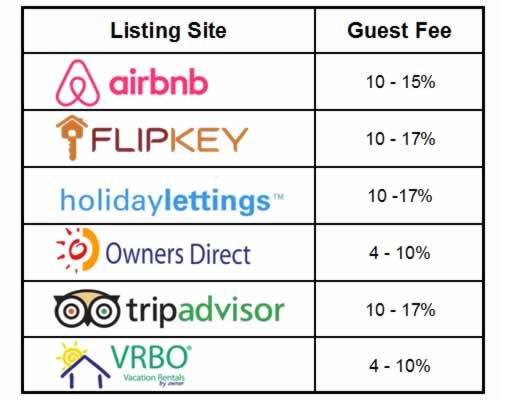 The guest fee has a spread – the more expensive the rental is, the lower the percentage charge will be. Likewise the cheaper the rental is, the percentage charge becomes higher. So that cheap condo you have just found on TripAdvisor could have a 17% fee added on to the rental price! What's even worse, several of these sites make their "service fee" well hidden within the quote, in an attempt to make it appear like it is something that owner had added on – which is not the case!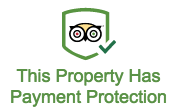 In return for paying this fee, these listings sites offer "24 X 7 customer service" and well-sounding, but often meaningless "guarantees" such as "book with confidence" or "payment protection". Your credit card already protects your payment, and travel insurance coverage is not included in the fee, so in reality you are getting little to nothing for it. As for their "24 X 7 customer service", do you really think that some person in an overseas call center will be able to help you if a faucet springs a leak or power goes out during your stay, or explain to you how to work a satellite TV remote?
These vacation rental booking sites are emphasizing "booking experience", as if booking process is all there is to having a great vacation. Imagine an online airline ticket site, touting how great, fast and convenient their "booking" process to buy a ticket is. This site would not care or do anything if your flight is late, or your luggage is lost. Neither does a vacation rental booking site – only unlike airline ticket site, they want to charge YOU the vacationer the "service fee" for the "privilege" of using them.
Not surprisingly, these sites make it difficult if not impossible to communicate outside of their own web site. The owner and visitor alike are forced to message using the listing sites own in house email system that "censors" (blanks out) anything resembling a phone number, email or website address. This is to ensure that they get their commission or fee from you and us.
There are more and more people thinking that these companies are in effect "milking" both the traveler and owner in order to swell the coffers of big business (we call it "double dipping"). The CEO of Expedia (the parent company of many listing sites) is paid a $93 million salary – and that gets paid by you, us and anyone else who books via one of their web sites.
How can you get the best deal on our vacation rental?
The answer is to use your favorite search engine to find the owners own web site or property's social media page and book direct. Here are our suggestions for different strategies to achieve this.
Browse the listing sites to find a vacation property you are interested in.

Look for key words in the title or property description – for example we often use '

Blue Mountain Lodge Gatlinburg

' in the title, in the description we often use the phrase "between Gatlinburg and Pigeon Forge, Tennessee" – then type them into a search engine and chances are you will find a match with the owners own web site.

Do a main image search – more likely than not, owner uses the same property image on the listing site and his/her own website.

Take to social networks – using the same keywords as above, search Facebook, Google+ and others – many owners maintain dedicated Facebook pages for their property where you can get in touch directly. In our case, you can check avaialability, inquire, quote and book directly from our property's Facebook Page.

Even if you decide to use a listing site, look for key words the owner is giving you in their reply that may help you to get in touch direct. In our replies we will talk about people wanting to 'stay at bluemountaincabins' as a hint to our website address as we can't write it explicitly.

Use a listing sites that do not limit communication. Examples include www.homeescape.com or www.vacationhomerentals.com among others.
Why bother?
If you don't mind giving a giant multinational corporation a hundred dollars or more of your hard earned cash then my advice is don't bother – pay up and enjoy your vacation. However, if your objective is to avoid paying more than you have to, then five or 10 minutes of searching is likely to reward you with a $100+ savings on your vacation stay. Not only will you save on additional fees, it may be that the rental price will be slightly lower or other specials may be offered if you book direct with the owner. And, contrary to what these big listing sites want you to believe, most owners offer secure and fast online payments (we sure do!) using credit cards of your choice and PayPal.
Where can I find more information?
There is an increasing number of online articles about perceived listing site greed that give more details of what is involved.
http://www.dailymail.co.uk/travel/article-3806007/Vacation-rental-firm-Owners-Direct-faces-fury-customers-adding-299-hidden-fee-bills.html – a Daily mail article about the Owners Direct service fee
http://www.travelmole.com/news_feature.php?news_id=2022566&c=setreg&region=2 – an overview of the Traveler Service Fee from a travel industry perspective
An online search will reveal many more articles. For example, on Trust Pilot, an online review site
SUMMARY
The vacationer's mantra should be – listing sites for looking, owner sites for booking – so that you stay at the place you like, at a price your wallet likes. Find a place you would like to stay at, then spend 10 minutes or so searching for the owners own web sites and properties' social media pages and get in touch and book direct. Finally, sit with a smug grin on your face knowing you have saved yourself a stash of money!
Please get in touch if you want more information or suggestions about traveler service fees no matter if you choose to stay with us or elsewhere – we are always happy to help!