How it all began – why the Smoky Mountains?
In 2009 a family friend bought a cabin in the area, and invited us to come along for a visit. Until then, I barely heard about the Smoky Mountains. We always loved the mountains, and seeing the Smokies for the first time made quite an impression.
We started coming to the area to look at foreclosed properties, with the idea to buy and renovate, because that was the only way we could afford one. We did not like the "resorts" with cookie cutter cabin styles and architecture. Besides, we have always imagined a quintessential cabin to be set in the woods and nature, not surrounded by dozens of other cabins on all sides. So we were looking for a place that offered some privacy.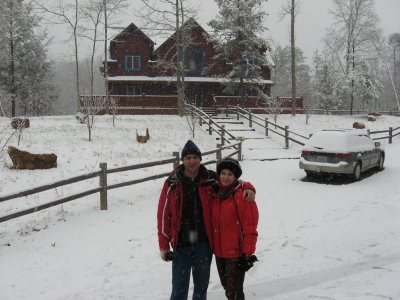 We plan to eventually retire and move to Sevier County permanently and live in one of our cabins. For now we make our cabins available to rent to our guests. We hope that our guests will appreciate our cabins and make wonderful memories in the Smokies for years to come.
Our first leap of faith: Blue Mountain Lodge
When we first saw the property that we'd later name "Blue Mountain Lodge", it was a
bank-owned foreclosure, sitting unoccupied for couple of years, with everything stripped – from lights to doors to kitchen (and bath) sinks. Even smoke detectors were gone. It had no running water, no heat, no AC. It took us 1.5 years of proverbial "blood, sweat and tears" to finally not only restore the cabin, but also add many improvements. Once we completed the restoration and started to rent the cabin to vacationers, it became a success very soon.
Our next adventure: Appalachian Escape Cabin
Two years later, we bought an unfinished build – a "shell" of a cabin that was sitting in the woods for 10 years, that would later become "
Appalachian Escape
". We fell in love with a quiet property the cabin was sitting on, and a peaceful and homey feeling it exuded. Buying the cabin was a huge risk because I was unemployed at the time, but simply could not pass up once-in-a-life-time opportunity. There was no yard or driveway, the lot was overgrown, but the "shell" was solidly built from hemlock Appalachian style traditional flat hewn logs. Chinking (the light stripes you see between the logs) was missing in places on the outside, and the inside was completely unfinished.
Completing this cabin was even bigger construction project than that of Blue Mountain Lodge, and we also had to manage it from 700 miles away. On the positive side, buying a "blank canvas" gave us the opportunity to add custom features and finishes that we (and now our guests) love to have. Another 1.5 years later, and we have a new favorite – both ours and our guests.
Our cabins are our passion – we strive to be the best around and help families make wonderful Smoky Mountains vacation memories – just like we do.
Included with your stay is our personal attention when you need it, privacy when you want it, and family friendly amenities to help you make your Smoky Mountains vacation experience the one to remember.
​​​​​​​